A Comprehensive Overview of Telegram Services - A Case Study
Keywords:
Instant messaging service, SWOT analysis, Telegram, Features, Competitors, Case Study
Abstract
Background/Purpose: Telegram is an internationally available, free, instant messaging service. Over the years, Telegram has established itself as a trailblazer and innovative choice in the domain of instant messaging services. Telegram supports a wide range of devices and is available for iOS, Android, macOS, Windows as well as Linux. Telegram's cross-platform support is one of the reasons why it has achieved over a billion downloads and 500 million monthly active users. This paper investigates the features of the Telegram app, services offered, its corporate background and financial information related to the Telegram as an organization. The authors have also presented a SWOT analysis on Telegram, along with their observations and recommendations for improving Telegram's services.
Objective: To examine the features and services of Telegram in depth and look at the aspect that contributed to its success.
Design/Methodology/Approach: Undertaking a case study by collecting data from secondary sources and presenting a comprehensive SWOT analysis on the subject of study.
Findings/Result: Telegram's ultimate aim, according to research conducted through numerous resources and analysis of facts and figures, is not to earn money, and it provides a plethora of security features that have made it popular in recent years.
Originality/Value: A study based on existing literature and online resources to create a comprehensive overview of the subject of study.
Paper Type: Case study analysis.
Downloads
Download data is not yet available.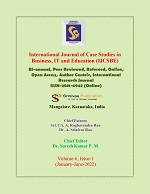 Downloads
How to Cite
Laiby Thomas, & Subramanya Bhat. (2022). A Comprehensive Overview of Telegram Services - A Case Study. International Journal of Case Studies in Business, IT and Education (IJCSBE), 6(1), 288–301. https://doi.org/10.47992/IJCSBE.2581.6942.0165