An Overview of Facebook's Journey to Meta - A Case Study
Keywords:
Facebook, Meta, Acquisitions, Artificial intelligence, SWOC Analysis
Abstract
Purpose: Facebook has far more than 2.91 billion users worldwide, as of October 2021 by following its commitment to "Give people the power to build community and bring the world closer together". Machine learning as well as applied Machine learning helps people to get new contents and related stories. Machine learning (ML) is a technique for recognizing and drawing conclusions from data connections. Speech recognition systems can caption videos on Facebook using machine learning, making them more accessible. The Facebook research team is working with Machine learning technology to give its users the best services. Here an analysis has been done on the history of Facebook, major acquisition of Facebook, applications of AI in Facebook and Financial plans and challenges. The entire Facebook company will now be known as Meta. The Facebook app, on the other hand, will keep its name, and other apps will not be affected. Facebook is now known as 'Meta' because of its new focus which means 'after' or 'beyond' in Greek. However, Instagram, Facebook, WhatsApp, and Messenger are now all part of the 'Meta' company, much like Google's products are all part of the Alphabet company. Artificial intelligence, AI is really essential to Facebook.
Approach: For this analysis, a sophisticated survey strategy based on secondary data was applied.
Findings: Based on the findings, it is clear that to provide high-quality service, Facebook uses leading edge artificial intelligence/machine learning technologies.
Originality: To identify the methodologies employed in the organization's services, a study is conducted based on the existing resources.
Paper Type: Descriptive Case Study Research
Downloads
Download data is not yet available.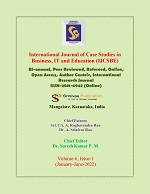 Downloads
How to Cite
Laiby Thomas, & Subramanya Bhat. (2022). An Overview of Facebook's Journey to Meta - A Case Study . International Journal of Case Studies in Business, IT and Education (IJCSBE), 6(1), 268–287. https://doi.org/10.47992/IJCSBE.2581.6942.0164