Impact of Covid-19 Pandemic in the Automobile Industry: A Case Study
Keywords:
Gross Domestic Product, OICA, Smart/Autonomous Vehicle, Image/Video Processing
Abstract
The automobile industry faces a significant problem due to slow down in economy/gross domesticproduct (GDP). The COVID-19 is affecting tourism, traveling and auto shows. It makes transportationsimple, easy, and secure by implementing new emerging technologies such as image processing,artificial intelligence, deep learning, and transforming from simple vehicles to smart & autonomousvehicles. The study in this paper aims to analyse the market using sales/production data collected fromthe organization Internationale des Constructeurs d'Automobiles (OICA) across different regions,measures taken to overcome the recession caused by COVID-19 by analyzing similar situations andchallenges faced in smart/autonomous vehicle. The challenges faced by autonomous vehicles withreference to camera and processing of captured image/video processing are discussed. Analysis ofautomobile Sales/Production shows the connection between market and GDP/economy.
Downloads
Download data is not yet available.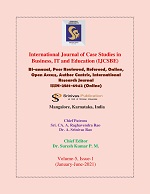 Downloads
How to Cite
Kiran Raj K M, Nandha Kumar K.G, & Kiran Raj K M. (2021). Impact of Covid-19 Pandemic in the Automobile Industry: A Case Study. International Journal of Case Studies in Business, IT and Education (IJCSBE), 5(1), 36–49. Retrieved from https://srinivaspublication.com/journal/index.php/ijcsbe/article/view/480
License