Impact of COVID-19 Pandemic on Zomato: A Case Study
Keywords:
Zomato, Food delivery, Dining out, Contactless dining, SWOT analysis
Abstract
The advancement and use of smart-phones and internet resulted in improving online services.Zomato is a digital platform combining restaurants and an online food delivery systemlaunched in 2008. The implementation of Lockdown to slow down the spread of pandemicCOVID-19 resulted in badly affecting tourism, transport, economy, and hotel industry. Zomatofood delivery is recovering from the effect of COVID-19 at a rapid rate with ~80% recoveryin metro regions. The revenue in the fiscal year 2020 is increased by 105% and cost by 47%.The main objective of this paper is to understand online food delivery service by using a survey,how Zomato is operating in COVID-19, its effect on the culture of the hotel industry, theintroduction of contactless dinning and challenges. The evaluation of the company is doneusing the SWOT analysis.
Downloads
Download data is not yet available.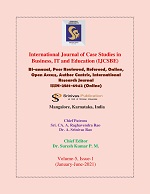 Downloads
How to Cite
Kiran Raj K M, & Nandha Kumar K.G. (2021). Impact of COVID-19 Pandemic on Zomato: A Case Study. International Journal of Case Studies in Business, IT and Education (IJCSBE), 5(1), 14–24. Retrieved from https://srinivaspublication.com/journal/index.php/ijcsbe/article/view/476
License