Social Media as a Promotional Tool in the Fashion Industry: A Case Study on Meta Platforms Inc.
Keywords:
Social-media, Social Media Influencers, ABCD Listing, Fashion Products, Meta platforms, Facebook, Instagram
Abstract
Purpose: With the tremendous growth of the online platform, several individuals now use social media to run their businesses, which is one of the most powerful platforms on the internet. Social media has become a trend for society as people spend more time online. Platforms such as the Meta platform are both cost-effective and profitable, allowing firms to access a larger audience. Then, people can voice their thoughts, form interest-based groups, curate material, post photographs and videos, and participate in group discussions. There are a variety of strategies for businesses to advertise their products and attract more customers, including supporting people who are interested in fashion and can influence their following, referred to as Fashion Influencers. The main purpose of this study is to see the marketing strategies adopted by the company as well as the suitability of different types of influencers of the company to the business as a promotional tool.
Methodology: This study mainly relies on secondary data. As introductory resources, magazine papers, journals and published books were used to obtain the necessary material for the study.
Findings: The study's key results are as follows: The firm launched the metaverse, which allows people (both influencers and users) to select their style via virtual meetings. Fashion brands and companies have also leveraged online platforms (meta platforms), digital models, and collaborations with video gaming platforms to create their own virtual collections for millions of players worldwide.
Practical Implications: This study will assist various firms in understanding the numerous marketing tactics available to them, as well as how and when to employ social media influencers in their operations.
Paper type: Company case study
Downloads
Download data is not yet available.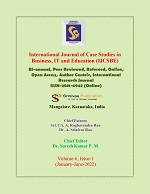 Downloads
How to Cite
Madhura K., & Niyaz Panakaje. (2022). Social Media as a Promotional Tool in the Fashion Industry: A Case Study on Meta Platforms Inc. International Journal of Case Studies in Business, IT and Education (IJCSBE), 6(1), 351–365. https://doi.org/10.47992/IJCSBE.2581.6942.0168