Case Study of V. K. Sofa Makers Customization Process
Keywords:
Retail Management, exponential growth, making process, customization customer satisfaction, powder coating paint, garden furniture, foldable furniture, metal furniture for schools, exports, SWOC analysis, ABCD analysis
Abstract
Purpose: Many successful businesses in India were less documented; hence this is an attempt to create a document of a company started by a young entrepreneur in Mangalore with a determination to create jobs for himself and others; documenting is an essential process for others to learn and understand and hence this analysis of VK Sofa makers is an attempt as a case study document for anyone and everyone who wishes to know in-depth about the company process. Similar case studies have been studied on young entrepreneurs, to know various types of entrepreneurs; therefore, it is critical to understand the process followed by departments as a Manu-Retailer organization, from manufacturing to selling, a value chain that generates customer value and a great business. Retail is a competitive business and needs to be managed and modified as per the seasons and customer needs; therefore, the purpose is to know; the depth of this mastery by the team over the years' Manufacturing is a challenge and a, strength in terms of standardization in sofa making; hence can Indian Companies like VK sofa makers export like other nations like Africa, Bangladesh, Sri Lanka, and many more nations. Keep global customer needs in mind as customization; for Global markets where requirements are unique: foldable sofas, metal sofas, garden sofas. Marketing both online and offline, channelizing the marketing and sales effort would be the key; pure leather sofas for business or just pleasure or daily use at home or office made. Hence can, VK Sofa Makers; make sofas'; that can be shaped and be user-friendly, as well as a match; the needs of business travelers who stay in Hotels for business, touring, and just sightseeing. Are the VK sofa products designed ergonomically, and how best can they be further customized along with metal or garden furniture is also being analyzed. Hence the purpose is to study- VK Sofa Makers is in-depth with a comparative study of enterprises; that are similar across the markets.
Design/Methodology/ Approach: The approach followed in making this case study was observations of the processes followed, speaking to various employees, vendors, and the owner himself. Open questions were asked to many of them, either directly or indirectly, involved in sofa- the making process.
Findings/ Results: It has been seen and learned; that the model is a replicable model by any person who garners and attempts the same kind of effort, results are to be achieved; in the process.
Originality: This is a first attempt to study VK Sofa Makers; as a case study; that is not known to the academic world, as well as the world in general. The research scholar; has put- in efforts to make sure the saga of success is- spread; for the greater glory of such business models that could be; replicated in other areas of products or services.
Paper Type: Case study method of understanding customization process at VK Sofa makers.
Downloads
Download data is not yet available.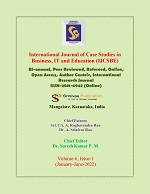 Downloads
How to Cite
Venkatesh S. Amin, & Anil Kumar. (2022). Case Study of V. K. Sofa Makers Customization Process. International Journal of Case Studies in Business, IT and Education (IJCSBE), 6(1), 202–222. https://doi.org/10.47992/IJCSBE.2581.6942.0160