Case Study of Furniture Manufacturing Companies
Keywords:
Leadership, Mass customization, Entrepreneurship, Retail business and competitive spirit of business, Ergonomically designed, Creative furniture, SWOT analysis, ABCD listing
Abstract
Purpose: This study encompasses four cases pertaining to furniture manufacturing industry in India. Manufacturing is essential for our nation and hence four companies are studied namely: Spacewood Pvt. Ltd, Choice Furntech LLP, Stanley Lifestyles Ltd, and VK Sofa Makers Pvt.Ltd. There are few similarities and associations with all four of these companies. This study also uncovers various aspects of minute details related to furniture pricing, customization, and unique selling proposition via segmentation/segments that they are operating in. The companies that are in study are basically seasoned and very strong fundamentally and operationally.
Design/Methodology/Approach: Observations and interactions/interviews with employees of all the four companies along with online databases were studied for finding similarities and dissimilarities in certain key variables and bring out the best variables/ practices that could be replicated by others.
Findings/ Results: This case study reviews the current situation of various customization processes through multiple variables in furniture manufacturing companies in India and the data is collected from interaction with employees, vendors, customers, company websites, scholarly literature, and internet sources for results that could have far reaching implications when compared to others abroad.
Originality: It is a study to find commonality or similarity[s] among these four companies with reference to VK Sofa makers for any future entrepreneurs to have a sustainable/ implementable business model that can grow rapidly by customization and superior service quality.
Type of Paper: Case Study based research analysis for knowing similarities among dissimilar companies of a same industry as well as to know the dissimilarities of similar nature companies in a given market space; hence the science and art of running these companies is the basis for this case study.
Downloads
Download data is not yet available.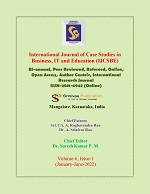 Downloads
How to Cite
Venkatesh S. Amin, & Anil Kumar. (2022). Case Study of Furniture Manufacturing Companies. International Journal of Case Studies in Business, IT and Education (IJCSBE), 6(1), 158–176. https://doi.org/10.47992/IJCSBE.2581.6942.0157