Operation of Design Review in Small Irrigation Projects in Dang Valley of Nepal
Keywords:
Status, Planning, Budget, Gap, Perception survey
Abstract
Purpose: Farmer Managed Irrigation Systems (FMIS) in Nepal are pioneers because of their traditional practice leading to sustainability and its efficient operating systems for centuries. In the context of the modernization of FMIS, it is important to preserve the traditional sustainable design approach along with its new construction techniques. This research has attempted to reveal the practices of design review.
Design/Methodology/Approach: To meet these objectives primary and secondary data were collected in fifteen surface irrigation schemes developed by CIP in Dang Valley. A questionnaire survey and observations were done to collect primary data followed by a collection of Feasibility Assessment Report as secondary data. Descriptive analysis was done using graphs and tables whenever applicable along with supported by a literature review.  
Findings/Result: The study found that farmers' participation in project selection and the detailed survey was satisfactory. The project cost has always been seen as a burning issue during planning, design, and implementation. 89% of respondents agreed that the budget ceiling in the project affected design. Overall, 72% of respondents opined that the proposed design is not sufficient for implementation which indicates that there is a need for design review, particularly for sustainability and efficient system. The study revealed that the gap between the design and construction phase could be minimized by revising the design and checking its compliance with actual site conditions before its implementation. The practice of design was found to be a very preliminary stage by the client. 
Originality/Value: The design of the project assures the constructability and performance of the project. So, the study signifies the pioneer sector FMIS to be constructed without any design issue through the documented practice of design review. The study has intended to study to minimize the gap between the design and construction phase.
Paper Type: Action Research
Downloads
Download data is not yet available.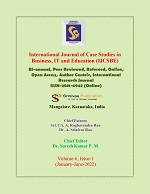 Downloads
How to Cite
Amrit Kumar Dahal, A. K. Mishra, & Aithal P. S. (2022). Operation of Design Review in Small Irrigation Projects in Dang Valley of Nepal. International Journal of Case Studies in Business, IT and Education (IJCSBE), 6(1), 139–157. https://doi.org/10.47992/IJCSBE.2581.6942.0156