Assessment of Knowledge & Awareness among the Professionals Regarding the Concept of Safety by Design
Keywords:
Expertise, Factors, understanding, culture, guidelines
Abstract
Purpose: Recently safety by design is widely used globally in the design phase of the project itself as a proactive approach to safety management.  so the overall objective of this research is to assess the knowledge & awareness among Nepalese professionals regarding the concept of Safety by Design.
Design/Methodology/Approach: The study covers a systematic review of a wide range of papers using content analysis followed by a scheduled questionnaire survey. Constructivism philosophy of research was used. Piloting assures the quality of five ranking Likert scale questionnaire before the survey. ANOVA test was used to analyze the response collected. Cronbach's alpha assures reliability and literature comparison assures validity.
Findings/Result: Most of the design professionals have heard of SbD from 2011 to 2020 during the college only as satisfactory to a good understanding. Understanding of the Clients was found to be satisfactory whereas that of Contractors and Engineers in abroad was having good understanding. They rarely get to address the worker's health and safety during the design phase even after realizing high importance. Lack of sufficient guidelines, manuals, online resources, or other materials that facilitate using of the SbD approach was found.
Limited knowledge regarding SbD was considered as the most important factor that restricted the use of SbD in the construction industry. Also, no regulatory provisions and designer's limited experience were the ones to restrict the use of SbD. Regarding the factors contributing to the success of SbD, design professionals agreed that legislative force is the most important factor followed by tools and guidelines related to SbD. Apart from them engaging the SbD experts and support from industry are equally important for the success of SbD.
Originality/Value: It is action research. This study helps in motivating and creating awareness among the design professionals working not only in transmission lines but also to study and use the concept of safety by design in their respective fields to eliminate the hazards.
Paper Type: Ex-Post Facto Research
Downloads
Download data is not yet available.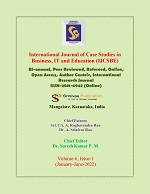 Downloads
How to Cite
Sunit Prasad Shrestha, A. K. Mishra, & Aithal P. S. (2022). Assessment of Knowledge & Awareness among the Professionals Regarding the Concept of Safety by Design. International Journal of Case Studies in Business, IT and Education (IJCSBE), 6(1), 93–109. https://doi.org/10.47992/IJCSBE.2581.6942.0153