Stress Inducing Factors and Relevant Strategies Deployed to Overcome Stress in the Aviation Industry Sector – A Systematic Literature Review and Further Research Agendas
Keywords:
Stress, Stressors, Strategies, Mental Health
Abstract
Mangalore International Airport serves as Karnataka's second busiest airport. As industries become busier, the role of airport personnel becomes vital. Because they play a big part in the transportation service at the airport. When the pressure exerted by work increases it negatively affects their physical and mental health. Stress in one direction or another is felt by many people. The agenda of this review article is to scrutinize the stressors and strategies employed by staff in overcoming work-related stress. This article contains an expected ideal condition, current status, and research gap. Based on the identified research gap and its qualitative analysis using the ABCD framework, a research agenda is identified. The article also provides valuable information on the topic and, by documenting it, can assist prospective researchers. Keywords: Stress, Stressors, Strategies, Mental Health.
Downloads
Download data is not yet available.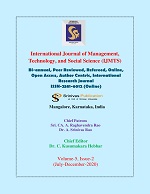 Downloads
How to Cite
Pavithra Kumari, & Aithal P. S. (2020). Stress Inducing Factors and Relevant Strategies Deployed to Overcome Stress in the Aviation Industry Sector – A Systematic Literature Review and Further Research Agendas . International Journal of Management, Technology and Social Sciences (IJMTS), 5(2), 347–371. https://doi.org/10.47992/IJMTS.2581.6012.0123
License