Cost-Effective Design of Latrine for Low Income Group
Keywords:
Types of Latrine, Cost, Suitability, Design, Income
Abstract
Purpose: Latrine is a symbol of cleanness. It is most to have a latrine even for getting basic government facilities.  Though the country is declared ODF, in reality, it is difficult to maintain the status for long. There are pieces of evidence that the declared ODF zones have reverted to open defecation over time. It was in this context, that the study was carried out to explore appropriate latrines to be constructed in the case of Mahottari District, Nepal.
Design/Methodology/Approach: Two communities namely Khyarmara (of Bardibas Municipality wards no. 10 and 11) and Pipara (of Pipara rural municipality, wards no. 1 to 7) were selected for the study. Household surveys along with the observation of the latrines constructed in the homestead, focus group discussion with the local people and key informants with the local implementers are the main sources of data followed by secondary data.
Findings/Result: The study has identified three different types of latrines existing in the study areas including water seal offset type single pit latrine (SO), latrine with the septic tank (LST), and water seal offset type double pit latrine (DO). By and large, SO-type latrines exist in the study area. It was found that 87 % of the latrines are currently sustained (SL), whereas the rest fall under either the sustained but at risk (SAR) category or simply not sustained (NS). The study analysis showed that the water seal offset double pit latrine (DO) is more sustainable and cost-effective in comparison to other types of latrines that exist in the study area. This led to the recommendation for constructing DO types of latrines in the study areas. It is very challenging for people having low income to afford to construct the latrines. Therefore, it is worthwhile to provide certain support in terms of capital subsidy to construct the latrines for the weaker section of society. 
Originality/Value: This is significant to policymakers and designers to overcome the issue of toilet construction.
Paper Type: Action Research
Downloads
Download data is not yet available.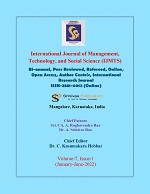 Downloads
How to Cite
A. K. Mishra, & Aithal P. S. (2022). Cost-Effective Design of Latrine for Low Income Group. International Journal of Management, Technology and Social Sciences (IJMTS), 7(1), 306–321. https://doi.org/10.47992/IJMTS.2581.6012.0192
License
This work is licensed under a Creative Commons Attribution-NonCommercial-NoDerivatives 4.0 International License.