Analysis of Laptop Users Purchase Behaviour: A Case of Kathmandu, Nepal
Keywords:
Age, Income, Brand, Features, Factors, Laptop, Purchase behaviour
Abstract
Purpose: The laptop market is highly competitive in Nepal. Kathmandu being the capital city with a high number of laptop users, several brands of laptops are available. The paper aims to find out the dependency between brand and gender, age, marital status, occupation, education, income, and other external factors using inferential statics.
Design/Methodology/Approach: The study is based on a questionnaire survey from 120 users from a different class. Chi-square and one-way ANOVA analysis tests are performed to test for a relationship between the importance of several independent factors and respondents' gender, age, occupation, income, and education level.
Findings/Result: Significant influence of age was not on brand preference for laptops in less than of 10% significance. Brand preference of laptop is significantly dependent on monthly income. Educational qualification, Brand image, Features, Configuration, Audio quality, Video quality, Price, Convenience of service, Scheme and offers, Advertisement, Family, and Friend influence are not significant for brand preference of laptops. The hypothesis testing showed that brand preference has a significant relationship only with occupation, age, and monthly income.
Originality/Value: It is a significant research for buyers and sellers of laptops in Nepal using the inferential model.
Paper Type: Analytical Marketing Research.
Downloads
Download data is not yet available.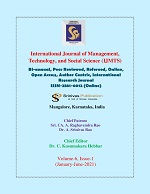 Downloads
How to Cite
Anjay Kumar Mishra, & Aithal P. S. (2021). Analysis of Laptop Users Purchase Behaviour: A Case of Kathmandu, Nepal. International Journal of Management, Technology and Social Sciences (IJMTS), 6(1), 226–240. https://doi.org/10.47992/IJMTS.2581.6012.0142
License
This work is licensed under a Creative Commons Attribution-NonCommercial-NoDerivatives 4.0 International License.