Integrated Inventory Management Control Framework
Keywords:
Brick-and-mortar store, Offline store, Physical store;, Salespeople;, Salesperson;, Sales Personnel;, Inventory Management;\, Inventory Turns;, Stock Cover;, ; Stock Turns;, Inventory Management Control.
Abstract
The concept of minimum display quantity (MDQ) is unavoidable in brick-and-mortar retailingformat owing to which, retailers need to ensure a minimum level of inventory displayed at eachstore irrespective of the revenue or inventory turns generated by a particular store. It is observedthat majority of bricks-and-mortar retailers in India assume;(a) existing inventory managementsystem is ideal to their store, (b) software solutions record accurate inventory movement, (c)involving store management team in inventory related decision making is risky/biased and mostimportantly (d) loss of sale due to stockouts is inevitable. Such assumptions and widely followedpractice have created a predisposition and mindset in store managers and they believe that theirstore delivers revenue and profit to the best of its potential with the inventory which is madeavailable to them through existing inventory management system and we cannot avoid a numberof instances consumers are unsatisfied due to stockout situations. In this research, we haveanalysed the existing decision-making process and control systems related to inventorymanagement of a select retailer, attempted to design a new framework and applied the samethrough an experiment to evaluate the change in (a) overall store profitability and (b) inventoryrelated key performance indicators.
Downloads
Download data is not yet available.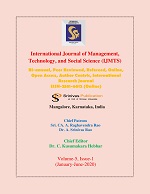 Downloads
How to Cite
Ganesha H. R., Aithal P. S., & P., K. (2020). Integrated Inventory Management Control Framework. International Journal of Management, Technology and Social Sciences (IJMTS), 5(1), 147–157. https://doi.org/10.47992/IJMTS.2581.6012.0087
License