Performance Assessment of Irrigation: A Case from Nepal-Asia
Keywords:
Physical structure, Cropping intensity, Cropping pattern, Crop yield, Water users, Water use activities
Abstract
Purpose: The overall objective of the research was to conduct the performance assessment of Lipe Khola Baseri Irrigation Sub Project of Okhaldhunga district with specific objective to analyze structural performance of physical structure and institutional performance of Water Users' Association through water use activities, structure control activities and organizational activities of the system to examine the effect of Irrigation Project on change in cropping intensity, cropping pattern, crop yield and productivity of project area..
Design/Methodology/Approach: To meet the above goals essential and optional information were gathered. Family review, key sources meets, and centered bunch conversation were completed to gather the essential information in the review and optional information were gathered through project-related archives, reports, sites, distributions, and diary articles.
Findings/Result: The system had no water right problem. Adequate water was available at the system. Rotational water distribution system was used for equitable water distribution from head to tail. The system was designed for conveying 60 1ps of water throughout the system to irrigate 30 hectare land. The operation and maintenance of the system was done collectively as per the rules and regulation. The decision-making and conflict resolution of WUA was established satisfactory but weak in resource mobilization. Training was fruitful for management of system and needs further training on agricultural advancement. The crop yield of monsoon season remained unchanged while the winter and spring crop yield of the project area has increased by around 10%. The cropping intensity before the project was 163%, which has increased to 173.33% after the project but still it does not meet the target 197%, set by the project.
The project construction ensures the sufficient water for irrigation but this does not change the cropping pattern of the farmers. Farmers of the project area are practicing the old method of farming. They use local seeds and grow traditional crops. Involvement of the agricultural institution in project area is essential for achieving the project objectives.
Originality/Value: This study helps policymakers and local level government to assure construction with compliance of standards. It makes it easier for policymakers to incorporate the development needs without compromising quality through regulatory provision.
Paper Type: Archival Research
Downloads
Download data is not yet available.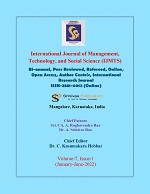 Downloads
How to Cite
A. K. Mishra, & Aithal P. S. (2022). Performance Assessment of Irrigation: A Case from Nepal-Asia. International Journal of Management, Technology and Social Sciences (IJMTS), 7(1), 444–464. https://doi.org/10.47992/IJMTS.2581.6012.0201
License
This work is licensed under a Creative Commons Attribution-NonCommercial-NoDerivatives 4.0 International License.