An Extensive Analysis of Understanding Consumer Intention towards Reduction of Food Waste
Keywords:
Food waste, Plate waste behaviour, Consumer Intention, Attitude, Awareness, Subjective Norms, Quality of Food, Environmental Concern, SWOC Analysis
Abstract
Purpose: People's purchasing and consumption patterns have been substantially influenced by different behaviours. The widespread concern about reducing food waste has resulted in the need for environmental concern. Consumer food purchases differ from each other when consuming in dine-in outlets where different factors can result in food trash leading to a serious threat in restaurants. Food waste has a significant impact on businesses across the country; this study will indicate by understanding the consumers' behavioural patterns whether or not the problem of food waste can be improved. This research helps to know the changes in consumers' intention consumption behaviours regarding food waste in dining outlets to avoid and reduce it.
Design/Methodology: This research is based on secondary sources acquired from extensive literature, case studies, journal articles, and internet searches.
Findings: According to the findings, society is becoming alert to the food waste problem and are taking proactive actions to prevent food waste in their households as well. The influence of the pandemic in 2020 has also served as a warning in every outlet regarding the environmental effects of food waste and pollution. This has enabled people to collaborate from the comfort of their own homes, and they are more cautious about purchasing food anywhere they go to dine and have a strong notion to reduce waste on their part. Because of the pandemic, the community's broad waste patterns have slowed, protecting the environment in the process and has given hope for sustainability.
Research limitations/implications: Restaurant food waste is India's growing problem. In addition to this, people are suffering a crisis due to the pandemic, which has resulted in food scarcity which is also leading to hunger. Because waste is one of the country's existing challenges due to its vast population, inefficient waste management methods must be fixed to minimize the possible risk of food waste contamination in households and food businesses.
Originality/value: There is a high demand in India for an efficient strategy to prevent future contamination of food waste by any further upcoming situation. With the rising population and urbanization, individuals have to change themselves to a more efficient in handling the situation by understanding the problem of waste that will help themselves and the environment to the greatest. This research intends to address the challenges of food waste generated by restaurants by consumers, as well as potential methods and backup plans for overcoming the food waste disaster with long-term solutions.
Paper Type: Review Paper
Downloads
Download data is not yet available.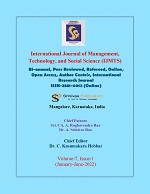 Downloads
How to Cite
Meghana Salins, & Aithal P. S. (2022). An Extensive Analysis of Understanding Consumer Intention towards Reduction of Food Waste. International Journal of Management, Technology and Social Sciences (IJMTS), 7(1), 400–416. https://doi.org/10.47992/IJMTS.2581.6012.0198
License
This work is licensed under a Creative Commons Attribution-NonCommercial-NoDerivatives 4.0 International License.