Ideal Store Locations for Indian Retailers – An Empirical Study
Keywords:
Brick-and-mortar store;, Offline store;, Physical store;, Store Image, Store Choice;, Store Locations;, High Street Store;, Pedestrian Store;, Mall Store;, Institutional Store
Abstract
Majority of brick-and-mortar retailers in India assume that; (a) stores in locations where there is
higher consumer walk-ins/traffic generate higher revenue and profit, (b) consumers spend is higher
in premium locations, (c) it is easier to attract consumers if the store is located in malls, (d) stores
in premium locations helps in building premium perceptions about the retail brand in consumers
and competitors mind, (e) it is difficult to attract and acquire consumers for high street stores, (f)
institutional stores are not long-term and most importantly, (g) magnitude of revenue that would
be generated by a store is important while considering a location. Such assumptions and
misconceptions have resulted in increasing challenges with respect to maintaining consistent
growth and sustainable store profits. Brick-and-mortar retailers need to understand the importance
of store location in relation to retailer's overall brand image, target consumer group and its
implications on the overall store profitability and consumer perceptions rather applying standard
thumb rules, assumptions and misconceptions followed by competitors or even short-term
lucrative deals offered by site owners/managers. In this research, we have analysed twelve months
actual sales data across high street stores, mall stores and institutional stores of a select retailer and
drawn insights to recommend brick-and-mortar retailers the right strategy of store locations choice and store locations mix to gain long-term strategic and competitive advantage.
Downloads
Download data is not yet available.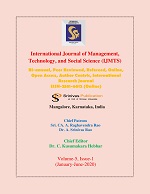 Downloads
How to Cite
Ganesha H. R., Aithal P. S., & Kirubadevi P. (2020). Ideal Store Locations for Indian Retailers – An Empirical Study . International Journal of Management, Technology and Social Sciences (IJMTS), 5(1), 215–226. https://doi.org/10.47992/IJMTS.2581.6012.0090
License