Integrated Discounting Framework for Indian Brick-and-Mortar Retailers
Keywords:
Discount, , End-of-season sale, Brick-and-mortar store, Offline store, ; Physical store;, Consumer perspective, Online store;, Sales promotion;, Discount Framework, Short-Term Discounts, Long-Term Discounts;, Decentralized Discounts.
Abstract
Since the time online retailing format started getting consumer acceptance in India, consumers
now have wider options available for them to buy a product at a discounted price and notably, as
online stores in India are following the product discounting as one of the key drivers for consumer
acquisition, consumers' perspective towards discount at Brick-and-mortar store has changed. This
change in consumers' perspective has put the majority of Brick-and-mortar retailers in India into
a quandary and they are losing out their market share slowly to online retailers. From the existing
literature we have found many discounting frameworks suggested by researchers, but they are all
isolated for specific contexts and leave it to retailers to create their own discounting frameworks.
In this work, we have attempted to create an integrated discounting framework for Indian brickand mortar retailers by carrying out multiple experiments with different manipulations and under different contexts along with taking clues from past research findings, insights and suggestions along with testing validity and reliability of the proposed framework in the field.
Downloads
Download data is not yet available.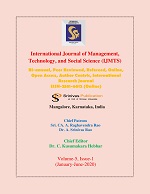 Downloads
How to Cite
Ganesha H. R., Aithal P. S., & Kirubadevi P. (2020). Integrated Discounting Framework for Indian Brick-and-Mortar Retailers. International Journal of Management, Technology and Social Sciences (IJMTS), 5(1), 110–123. https://doi.org/10.47992/IJMTS.2581.6012.0085
License