Preventing Stress, Improving Productivity: A Case Study on Stress Management Policies of TCS and Infosys
Keywords:
Stress, Stress Management Interventions, Stress Management Policies, TCS & Infosys, IT employees, SWOC Analysis
Abstract
Purpose: Stress is the body's physical or mental reaction to adversity. It has become more prevalent because of dynamic social factors and changing lifestyle demands. Physical, mental, and behavioural changes occur as physiological responses to an external condition. Stress is a part of everyone's life, and IT professionals are no exception. Individuals working in the information technology field are under more stress because they are target-driven and expected to deliver results. As technology and new-age facilities become more widely available, this pressure will increase. As a result, the industry has confronted the issue rather than avoided it. It is a positive sign because it could add significant value to the industry. This paper has attempted to study the stress management strategies adopted by TCS and Infosys.
Methodology: To meet the objective of the paper, secondary sources of data which included books, journals, articles, Google Scholar, newspapers and websites are used.
Findings: According to the findings, Infosys and TCS have well-designed coping strategies at the organisational level. Strong management strategies are also likely to reduce unhealthy stress in both TCS and Infosys by increasing employee autonomy, training, working environment, time frames, career development, and support networks.
Originality/Value: This paper attempts to study the best practices adopted by TCS and Infosys' in stress management using secondary data. This research will enable the management of both TCS and Infosys to redesign their policies and strategies to reduce the existing    high employee attrition and encourage productivity improvement in the organization. Also, the study will enable the readers, researchers and practitioners (HR Managers) to have a professional approach in addressing the critical issue of employee attrition focusing on stress management.
Paper Type: Case Study.
Downloads
Download data is not yet available.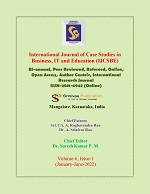 Downloads
How to Cite
Elvira Monteiro, & James Joseph. (2022). Preventing Stress, Improving Productivity: A Case Study on Stress Management Policies of TCS and Infosys. International Journal of Case Studies in Business, IT and Education (IJCSBE), 6(1), 401–413. https://doi.org/10.47992/IJCSBE.2581.6942.0171