India's Digital Payment Landscape – An Analysis
Keywords:
Digital Payment, contactless payment, UPI, Digital transactions, National Payment Corporation of India, PESTEL Analysis
Abstract
Purpose: The Indian payments sector is undergoing far reaching changes, with digital payments capturing a sizable slice of the cake in recent years. The changes began from a fully cash economy to a less-paper-currency system. The Reserve Bank of India and its nodal agencies are working hard to make the digital India goal, a reality. Nearly one billion cards and more than two billion Prepaid Payment Instruments (PPI) such as online wallets, mobile applications, e-wallets, and digital payment modalities have pushed India into one of the world's fastest growing and largest digital payment ecosystem. In fact, an exponential increase in internet infrastructure boosted e-commerce. Unified Payment Interface, popularly known as UPI, is regarded as a revolutionary payment solution in the market for facilitating retail digital payments. The main objective of this paper is to identify innovations in India's digital payment landscape in a phased manner. While doing so, it also analyses the payment facilitating industry by applying PESTEL model to identify political, economic, technological, environmental and legal factors.
Design/Methodology/Approach: This study examines India's digital payment landscape in terms of its gradual progress. Using the PESTEL model, it also analyses external factors that contribute to a less cash economy. Secondary sources were used to gather data for the study, which included reports, circulars, rules, and statements made by the Reserve Bank of India and other relevant organisations.
Findings/Results: According to the study, India's digital payment segment has seen tremendous success since the implementation of UPI by the National Payment Corporation of India (NPCI) in 2016. The government's Direct Benefit Transfer (DBT) programme enabled the country to achieve financial inclusion of all citizens having access to banking services. Government legislation, regulator intent, social behaviour, increased smartphone usage, lower internet costs, and others significantly impacted the growth of the digital payment industry by ensuring secure, faster, cost-effective, and secure payment solutions.
Originality/Value: This study examines the digital payment industry in India using the PESTEL methodology, which allows us to see the industry from all sides.
Paper Type: Industry Analysis-based Research Case Study.
Downloads
Download data is not yet available.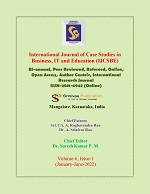 Downloads
How to Cite
Mahesh A., & Ganesh Bhat S. (2022). India's Digital Payment Landscape – An Analysis. International Journal of Case Studies in Business, IT and Education (IJCSBE), 6(1), 223–236. https://doi.org/10.47992/IJCSBE.2581.6942.0161