Oil and Gas Industries in India- A Case Study
Keywords:
Oil and Gas Industry, Upstream, Downstream, Midstream, CSR, Innovations, Covid19 impact, SWOC analysis
Abstract
Purpose: The petroleum industry is one of the India's core industries, and it has a significant impact on decision-making in the critical sectors of the India's economy. Oil and Natural Gas Industries occupies the core in the world's energy market. These enterprises assumes a significant part in each nation's economy and monetary development of India is firmly connected with its energy interest. Investment in this industry is continuously increasing as the energy demand is also continuously increasing in India. This paper will discuss and analyze about the Oil and Gas Industries of India related to multiple factors impacting these industries which includes technological trends, innovations, corporate social responsibility, research and development, Covid-19 impact and its related economic impact.
Design/Methodology/Approach: Oil and Gas Industries are chosen and in depth analysis done by getting data from websites, journal, articles and blogs. Focused on Industry related objects, studied, evaluated and compared various points related to oil and gas industries.
Findings/Result: Oil and Gas Industries are analyzed by understanding and studying the different aspects of these industries. Indian monetary development is additionally affected due to these businesses. Alternatives to Oil and Natural Gas, technological innovations and research and development as recommendations are also discussed and suggested.
Originality/Value:  Oil and Gas Industries data from different sources studied and documented. 
Paper Type: Case study analysis.
Downloads
Download data is not yet available.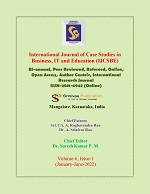 Downloads
How to Cite
Jayameena Desikan, & A. Jayanthila Devi. (2022). Oil and Gas Industries in India- A Case Study. International Journal of Case Studies in Business, IT and Education (IJCSBE), 6(1), 110–125. https://doi.org/10.47992/IJCSBE.2581.6942.0154