An Analysis of Indian Pharmaceutical Sector using ABCD Framework
Keywords:
Indian Pharmaceutical Industry, ABCD framework, Generic Drugs, FDA Compliance
Abstract
Purpose: The understanding of changing industry dynamics is essential for any business firm that wishes to enter, earn returns and sustain in any given industry. The study/analysis of an industry is essential for various stakeholders. For instance, creditors/investors take decisions concerning investment only after a thorough analysis of the current scenario and prospects of an industry. The ABCD framework is an effective tool of industry analysis for understanding both the positive and negative impact of the industry's operations and the factors that support or hinder the effective functioning of the industry. The Indian Pharmaceutical Industry, known as the pharmacy of the world, is the leading supplier of generic drugs. It's contribution in achieving various public health outcomes such as polio eradication, lower treatment costs, to name a few, are immense. The industry has proved its resilience even in the COVID-19 pandemic era.
Design/Methodology/Approach: This paper studies the Indian Pharmaceutical Sector in terms of its Advantages, Benefits, Constraints and Disadvantages. The data for the same is collected through published reports on the Indian Pharmaceutical Sector. Apart from ABCD Framework, other tools of industry analysis such as the Herfindahl-Hirschman index are used in the study.
Findings/Result: The benefits of the pharma industry to the economy as well as to public health outcomes have been many and varied. The industry enjoys many advantages, the main among them being the low cost of manufacturing, which has contributed to its growth. The main disadvantage of the industry is its adverse impact on the ecology. Rigorous regulations are its chief constraints.  
Originality/Value: This paper studies the Indian Pharmaceutical industry using the ABCD model, which gives an all-round perspective of the industry.
Paper Type: Research Case Study based on industry analysis.
Downloads
Download data is not yet available.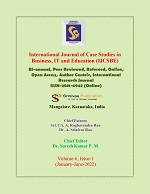 Downloads
How to Cite
Sanjana S. Shenoy, & Shailashri V. T. (2022). An Analysis of Indian Pharmaceutical Sector using ABCD Framework. International Journal of Case Studies in Business, IT and Education (IJCSBE), 6(1), 1–13. https://doi.org/10.47992/IJCSBE.2581.6942.0145