Compliance Status of Building Bylaws and Codes in High-rise Apartment Buildings of Nepal
Keywords:
building codes, bylaws, apartments, implementation, damages
Abstract
Purpose: The implementation and compliance of building bylaws and building codes in apartment buildings in Nepal are always questionable. Thus, the overall objective of the study was to assess the building bylaws and building code compliance in apartment buildings.
Design/Methodology/Approach: Data were collected by field observation of selected thirteen apartments and questionnaire survey after extensive literature review. It is analyzed based on the standard of codes and bylaws and effect during the earthquake and presented using charts, tables, and graphs.
Findings/Result: Though the provisions of bylaws i.e., greenery open space have not complied in four apartments and setback criteria have not complied in two apartments, all other provisions of bylaws have fully complied with in all thirteen apartments selected for the study. Likewise, most of the provisions of the Nepal National Building Code have fully complied in all thirteen apartments selected for the study. However, the RCC bands in masonry infill walls were not provided in all the thirteen selected apartments. The study revealed that the structural members in most of the apartments during the Gorkha earthquake 2015 were damaged minor to moderate only. But the nonstructural infill walls in most of the apartments were damaged moderately to severely. The main reason for severe to moderate damage on nonstructural infill walls of apartments was due to the RCC bands and vertical reinforcement not provided in the nonstructural walls. So, the RCC bands shall be provided in masonry infill walls and also the nonstructural masonry infill walls should be replaced in apartment buildings with lightweight, prefabricated materials to avoid damage in masonry infill walls. Similarly, the designer and developer himself should be made fully responsible and accountable for full compliance of building code and building Bylaws. Rewards and punishment systems should be introduced with the level of compliance with the provisions of codes and bylaws. Thus, the study revealed that the apartment building construction is a formal housing process regulated by the government of Nepal in the overall process of approval, supervision, and monitoring. The High-rise apartment buildings in Kathmandu valley are safe enough from earthquake, fire, and other natural disasters since the compliance with building codes and bylaws is satisfactory. Also, there is no option to go for High-rise Apartment buildings in the cities like Kathmandu where the land is very limited.
Originality/Value: It is empirical research to signify the compliance and contribution of building codes and bylaws
Paper Type: Ex-post facto project management research.
Downloads
Download data is not yet available.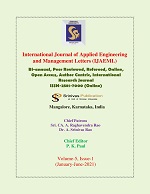 Downloads
How to Cite
Anjay Kumar Mishra, Ganesh Karmacharya, & Aithal P. S. (2021). Compliance Status of Building Bylaws and Codes in High-rise Apartment Buildings of Nepal. International Journal of Applied Engineering and Management Letters (IJAEML), 5(1), 66–79. https://doi.org/10.47992/IJAEML.2581.7000.0093