Voice Biometric Systems for User Identification and Authentication – A Literature Review
Keywords:
Voice biometric, Speech Detection, Acoustic modelling, User Identification and Authentication
Abstract
Purpose: Biometric trends are used in many systems because of security aspects. The cryptosystem is such an example which uses a biometric. But due to stored biometric data for the authentication, this can be a dangerous issue. Therefore, in comparison to conventional used biometric system, voice biometric system provides an efficient safety, security and unique identity. Among various speech recognition or processing methods, there is one called automated speech conversion methods, which also used to convert the recorded voice into text format. The overall concept of voice reorganization and voice biometric system is based on the acoustic modelling. Therefore, for getting the perfect speech detection, robust acoustic modelling is required. Our analysis describes the advancement and usage of voice biometric system for user identification and authentication. This paper provides a descriptive review of different voice biometric systems, their advancement and applications in different fields.
Methodology: The core principles of the research issue have been well discussed in the literature review on speech biometrics. During this process, selected journals from a variety of secondary data sources, such as research papers published in a variety of reputed journals periodicals that are related to the topic are studied in the methodology.
Findings/Result: A vocal biometric system is a biological system that captures an individual's voice and assigns it a unique characteristic for authentication purposes. This speech biometric method is primarily used to provide secure, quick, and frictionless access to various electronic devices. In the last three years, rapid technological advancements in neural networks have improved the deployment of speech biometric systems in a variety of industries. The majority of speech biometric system designs are based on the CPU, necessary power, and memory concepts. The advancement of software and hardware interface has been dramatically enhanced and implemented for many applications in the last few years, including smart watches, mobile phones, and car locking systems, where the interface between humans and electronics devices is critical. Banking security, attendance system, file access system, security control, and forensic development system are some of the other commercial applications.
Originality: Following the literature study, the findings were utilized to conclude that, despite advances in biometric technology, there is still a significant gap in practical application, particularly for voice biometric systems. When building and developing a voice biometric system, it is necessary to integrate it with an IoT system.
Paper Type: Literature Review.
Downloads
Download data is not yet available.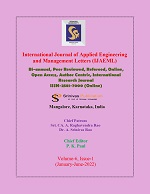 Downloads
How to Cite
Amjad Hassan Khan M. K., & Aithal P. S. (2022). Voice Biometric Systems for User Identification and Authentication – A Literature Review. International Journal of Applied Engineering and Management Letters (IJAEML), 6(1), 198–209. https://doi.org/10.47992/IJAEML.2581.7000.0131