Direct to Consumer using Livestream as an Innovative Marketing Medium during COVID-19
Keywords:
Marketing and Communication Channel, Direct to consumers, live stream, Covid-19, ABCD Analysis
Abstract
Purpose: Owing to COVID, when many of the physical retail areas were closed and customers were inside, brands were always considering inventive ways to associate with the customers. The accessibility of customers to sellers remained. The live stream was an awesome way to access customers and multiply engagement.
Design/Methodology/Application: Establishing a conceptual notion based on model development using the emphasis group - learning method and model analysis using the ABCD listing methodology.
Findings/Result: The analyst has recognized that engagement must not be restricted to buyers alone. Livestream is an amazing stage to lock in accomplices as well as internal employees within the company. Livestreaming is long-term of retail and e-commerce. The coronavirus pandemic devastated almost all sectors of the business.
Research limitations/implications: Businesses across the country and across the world experienced their supplies, business relations adversely hampered. The demand for most of the products and services reduced to a great extent. The business interruption insurance policy can come to the rescue but unfortunately, if a particular business is not listed on, the policy is not covered. It becomes inevitable to review and reiterate the policies. In many places, in almost all sectors, all spheres, all levels, from the rich to the poor, the losses and damages caused by coronavirus havoc are irreparable. No agency or organization ponders over their compensation of them.
Originality/New knowledge/Interpretation/Value: The objective of this paper is to exhibit the most recent patterns and upgrades in live streaming. Moreover, the feasibility of utilizing Livestream as an integrated marketing communication channel is explained.
Paper Type: Conceptual research
Downloads
Download data is not yet available.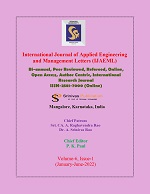 Downloads
How to Cite
D. Rajasekar, & Aithal P. S. (2022). Direct to Consumer using Livestream as an Innovative Marketing Medium during COVID-19 . International Journal of Applied Engineering and Management Letters (IJAEML), 6(1), 77–86. https://doi.org/10.47992/IJAEML.2581.7000.0121