Leisure and Quality of Life among Parents of Children with Autism Spectrum Disorder – A Review Based Analysis
Keywords:
Autism Spectrum Disorder, Parents, Autism Spectrum measures, Quality of Life
Abstract
Purpose: Owing to the time-consuming job of caring for their child's family and friends, parents of children with autism spectrum disorder risk losing family relationships.  The main aim was to identify and intervene in the quality of life of parents, the interventions offered to parents as primary caregivers of children with ASD. To explore parents' perspectives on beneficent for children with autism in connection with formative years, resources, and to confront the consequences of upraising a child with ASD.
Design/Methodology/Approach: Systematic literature, resulting in the publication of 27 studies that focused on the living standards of parents of children with ASD. Systematic literature scrutiny was performed using the search words "autism spectrum disorder," 'primary caregiver/ parents/ mother" and "Quality of life" in the electronic databases Research gate, Academia, Google Scholar, and PsycInfo.
Findings/Result: QOL autism-specific assessment tools were limited and hence, most studies have employed a general measure tool to assess the influence of the diagnosed disorder on the physical and psychological well-being of parents/caregivers.
Originality/Value: The sequel of this study advocate that to date, the appraisal of quality life in parents of children with ASD into clinical practice has been rationalized by the shortage of autism-specific scales.  As generically do not catch all pertinent aspects of living with ASD raising the need for immediate measures. Implementing parental interventions in parallel with the child's interventions may raise QOL.
Paper Type: Systematic literature review.
Downloads
Download data is not yet available.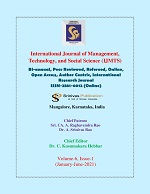 Downloads
How to Cite
Menezes Ida Sylvia, & Laveena D'Mello. (2021). Leisure and Quality of Life among Parents of Children with Autism Spectrum Disorder – A Review Based Analysis. International Journal of Management, Technology and Social Sciences (IJMTS), 6(1), 176–188. https://doi.org/10.47992/IJMTS.2581.6012.0139