Accessing the Compliance Standards of Selected Projects of Thabang Rural Municipality, Nepal
Keywords:
Compliance, National Building Codes, Nepal Rural Road Standard, Water tariff, Water Demand
Abstract
Purpose: A project is assumed to be sold before construction based on its accepted quality standards conformed through specification. Standards and specifications are used as benchmarks, and compliance checks are used to ensure that they are met. Accessing standard compliance based on chosen case projects is an attempt to learn about the status of Thabang Rural Municipality construction projects.
Design/Methodology/Approach: The compliance status of RCC and masonry building and the motorable road was checked by field observation with help of a checklist and their result are shown through bar graphs. For water supply projects water demand compliance was checked by field observation and water tariff calculation was done based on the possible yearly expenses of water supply management along with effective analysis of Detail Project Reports, Design, and Drawings.
Findings/Result: Compliance status 20 RCC and 12 masonry building shows major non-compliance in the spacing of stirrups, lap length in column and beam, chair bars of the slab, provision of the crossing of reinforcement in the staircase. In masonry building, major non-compliance was observed in band/through stone, vertical bars at corners, and corner stretching by dowel bars. Roadway width was checked in two selected road projects and Tutu Praja Bhitrivan motorable road found non-compliance in the major portion of the road. Water demand compliance, water tariff calculations were done in Yebang Chabang Water Supply project.
Originality/Value: This study helps policymakers and local level government to assure construction with compliance of standards. It makes it easier for policymakers to incorporate the development needs without compromising quality through regulatory provision.
Paper Type: Action and Policy Research
Crossref DOI: https://doi.org/10.47992/ijmts.2581.6012.0182
Downloads
Download data is not yet available.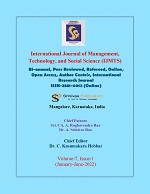 Downloads
How to Cite
Mina Yogi, A. K. Mishra, & Aithal P. S. (2022). Accessing the Compliance Standards of Selected Projects of Thabang Rural Municipality, Nepal. International Journal of Management, Technology and Social Sciences (IJMTS), 7(1), 127–140. Retrieved from https://srinivaspublication.com/journal/index.php/ijmts/article/view/1229
License
This work is licensed under a Creative Commons Attribution-NonCommercial-NoDerivatives 4.0 International License.