Planning Assessment of Transport System: A Case from Nepal
Keywords:
OD Survey, Financial gap, Existing Road Network, Condition of transport accessibility, MTMP
Abstract
Purpose: Road infrastructure is considered as "the infrastructure for infrastructure". Planning assessment of the transport system is done for assessing and planning the present road and transport infrastructures and facilities within the municipality and the surrounding local bodies. The research aims to analyse the planning of the transport system of Devchuli Municipality for recommending pragmatic solution of transport problems.
Design/Methodology/Approach: Devchuli Municipality is located in Nawalparasi East district of Gandaki Province in Nepal. Municipality is divided into 17 wards, covers 112.72 km2 area. Municipality is populated with different castes and religions with population of 49,637. It consists of 12025 households with population density of 440 persons per sq.km and 4.13 people per household. Data were collected using Official document, Key informant interview, Field Survey, and observation and analyzed using Content, Origin and Destination (OD) Survey, Road Inventory Survey, Classified Vehicle Count Survey, Public Transport and Services Study.
Findings/Result: Municipal Transport Master Plan (MTMP) started with the setup of Municipal Road Coordination Committee (MRCC) and the collection of demand and inventory of road within the municipality. Road inventory survey was done and the length of the roads collected is about 339.67 km (without SRN) From the sample data it is found that nearly 11% of the mode of transportation is shared by active road users hence footpath is proposed on the roads. Visionary city development and Indicative Development Potential Plan is studied with which the existing and potential market center/service centers (key growth centers) and the areas having various development potentials such as agro-based industries, high value cash crops and tourism.
This study also formulated the road hierarchy for the various roads namely Class A, B, C and D. Class C and D basically deals with access while Class A and B basically deal with mobility and accessibility to higher services. Total cost for the required interventions proposed is calculated based on the rates of ToR for 5 years and was found to be approximately 794 million rupees.
Originality/Value: It is action research. This study helps to develop a Visionary city development plan for Pragmatic solutions for issues of transport.
Paper Type: Ex-Post Facto Research
Downloads
Download data is not yet available.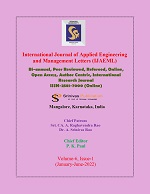 Downloads
How to Cite
A. K. Mishra, & Aithal P. S. (2022). Planning Assessment of Transport System: A Case from Nepal. International Journal of Applied Engineering and Management Letters (IJAEML), 6(1), 280–300. https://doi.org/10.47992/IJAEML.2581.7000.0137