Predictive Analytics on Contractual Faculty Future Retention Rate in Rural Areas of India with the help of Clinical Stress cum Retention Rate Model
Keywords:
Anxiety, Stress, Satisfaction, Occupation, Contract Teachers, Punjab
Abstract
Purpose: Predictive Analytics study has been conducted on contractual faculty working in various engineering and management colleges in the border area of Gurdaspur, Punjab to find the retention rate of these faculty members against the various personnel policies adopted by these institutions.
Objective: Stress is described as a state of physiological unevenness. Albeit contemporary education sector in an eminent country such as India where regular jobs become penurious obsolete perhaps people still accord in this sector because of their interest in the teaching. On the contrary, most of the new faculty work on contract basis and their jobs are not secured or may be secured for a few months depending upon the contract period. A repercussion of this probe, the purpose of the exploration is to review job satisfaction level and their retention rate.
Design/Methodology/Approach: Study has been conducted with the help of non-probability convenient sampling by distributing questionnaires and conducting interviews on 150 faculty members working on a contract basis in government and private engineering and management colleges surrounding near an area of Gurdaspur district of Punjab, India.
Findings/Result: Personnel policies, faculty development, career growth, research support and work culture, all these parameters should clearly have considered by the administration of the engineering and management colleges of district Gurdaspur, Punjab during making any policies for the contact faculty in the future so that their satisfaction level and retention rate won't be affected.
Research limitations/implications: Research has been conducted in Gurdaspur district of Punjab. Findings may vary from other geographical area of country. Study only covers faculty members; non-teaching faculty has not been covered in this study. Time constraint is another factor for the limiting sample size.
Originality/New knowledge/Interpretation/Value: Paradoxical to previous studies, this study also tests out the connection between anxiety feeling with job security of contract faculty dwelling in engineering colleges of Punjab, India with the aid of a stress model to assess the future of teaching in rural areas.
Paper Type: Analytical Research paper
Downloads
Download data is not yet available.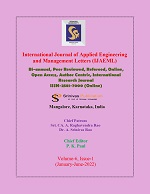 Downloads
How to Cite
Vishal Mahajan, & Aithal P. S. (2022). Predictive Analytics on Contractual Faculty Future Retention Rate in Rural Areas of India with the help of Clinical Stress cum Retention Rate Model. International Journal of Applied Engineering and Management Letters (IJAEML), 6(1), 267–279. https://doi.org/10.47992/IJAEML.2581.7000.0136