Factors Affecting Design Review: A Case from Dang Valley, Nepal-Asia
Keywords:
Irrigation, Cost Effective, Causes, FMIS, Survey
Abstract
Purpose: There seem some flaws during design by consultants because of time and cost constraints. To deal with this problem there is a need for a design review for those design parts to assess their compliance for implementation. The overall objective of the research is to analyze the causes of the design review of small farmer-managed surface irrigation schemes developed by the Community Irrigation Project (CIP) about Dang Valley.
Design/Methodology/Approach: Based on selected fifteen surface irrigation schemes developed by CIP in Dang Valley, a Questionnaire survey, interviews, and observations were done along with the intensive study of Feasibility Assessment Report, project-related datasheets, and As-Built Drawings. These data have been analyzed using the Relative Importance Index (RII).
Findings/Result: The study revealed that faulty survey, design, and change in local demand by users are the major reasons to change the design. The major four significant factors to cause design change in small surface irrigation schemes as obtained from the Relative Importance Index (RII) were survey leading to (1) the efficient system, (2) design with cost-effective and sustainable approach, (3) social issues, and (4) unforeseen site condition. It indicates that for the better construction and performance of FMIS there is a need for improvement in the survey, design, and other social issues like the mechanism of distributing equal water to all the beneficiary farmers.
Originality/Value: The care against the influence of unnecessary political factors with due consideration of technical, social, environmental as well as the financial viability of schemes will be assured through the provision of a flexible Cost ceiling. Concept of design through extended team will be maintained.
Paper Type: Action Research
Downloads
Download data is not yet available.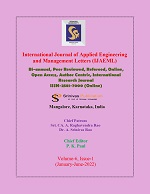 Downloads
How to Cite
Amrit Kumar Dahal, A. K. Mishra, & Aithal P. S. (2022). Factors Affecting Design Review: A Case from Dang Valley, Nepal-Asia. International Journal of Applied Engineering and Management Letters (IJAEML), 6(1), 160–175. https://doi.org/10.47992/IJAEML.2581.7000.0127