A Review on Conceptual Model of Cyber Attack Detection and Mitigation Using Deep Ensemble Model
Keywords:
Cyber-attack detection, BAIT approaches, Cryptosystem, Feature extraction, Deep Ensemble Model, Cyber-attack mitigation
Abstract
Purpose: When communication networks and the internet of things are integrated into business control systems, they become more vulnerable to cyber-attacks, which can have disastrous consequences. An Intrusion Detection System is critical for identifying and blocking attacks in IoT networks. As a result, utilizing a unique Classification and Encryption approach, this article offered a novel architecture for attack node mitigation.
Design/Methodology/Approach: This study reviews the current status of various cyber-attack detection models and their mitigation techniques. The proposed model works so that the system is first trained on the dataset, including the DDoS attack and ransomware components. The model examines if it contains malware from DDoS or Ransomware. When tested, we use trained information or a data set to provide the results on attack existence and what sort of attack we offer the extracted characteristics of the input. When the model identifies the attacker node, it is removed via the BAIT technique from the network.
Findings/Result: Recognizing the importance of information security is critical to combating cybercrime and encouraging cyber security. There are numerous tactics, strategies, and equipment currently in use to detect intrusion in a computer network, and continuing research is being conducted to improve their ability to detect intrusion. The basic version of a cyber-assault detection and mitigation system using the BRELU-RESNET method was evaluated in this study.
Originality/Value: This review-based research article examines the present state of cyber-attack detection and mitigation, as well as the research gaps and research goals.
Paper Type:  Review-based research analysis
Downloads
Download data is not yet available.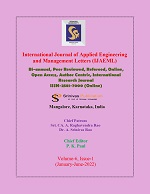 Downloads
How to Cite
Sangeetha Prabhu, & Nethravathi P. S. (2022). A Review on Conceptual Model of Cyber Attack Detection and Mitigation Using Deep Ensemble Model . International Journal of Applied Engineering and Management Letters (IJAEML), 6(1), 149–159. https://doi.org/10.47992/IJAEML.2581.7000.0126