IFE & EFE, TOWS and QPSM Analysis of Online Food Delivery Services
Keywords:
IFE and EFE analysis, TOWS matrix, QSPM analysis, Online Food Delivery Services, Strategies
Abstract
Purpose: This study attempts to analyse internal and external factors that favourably lead to increased turnover of Online Food Delivery Services and to offer best strategies that can be implemented based on those indicators, and select the most effective strategy.
Design: The study is based on primary and secondary data. Focus group method were employed as primary data source for IFE and EFE analysis followed by TOWS matrix and QSPM analysis and secondary data was obtained by reference to journal papers and books.
Findings: The results shows that the company should select the best strategy as improvement in food quality followed by related food diversification.
Originality/Value: The paper helps to understand the internal and external factors influencing sales of Online Food Delivery Services by the use of different analysis framework.
Type of the Paper: Qualitative Analysis
Downloads
Download data is not yet available.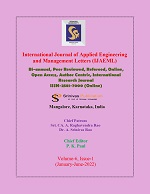 Downloads
How to Cite
Dsouza Prima Frederick. (2022). IFE & EFE, TOWS and QPSM Analysis of Online Food Delivery Services. International Journal of Applied Engineering and Management Letters (IJAEML), 6(1), 117–125. https://doi.org/10.47992/IJAEML.2581.7000.0124