An Overview of Drugs Used in COVID-19: A Pharmacotherapeutic Approach
Keywords:
Covid-19, , Coronavirus disease 2019, SARS-CoV-2, Optimum therapy, Treatment & prevention
Abstract
Coronavirus originated pandemic disease also called Corona Virus Disease 2019 (COVID-19) is spread all over the world causing severe acute respiratory syndrome (SARS) called SARS-CoV-2 poses a difficult challenge to scientists, researchers, and practitioners to discover effective drugs for prevention and treatment. By using a huge amount of clinical data obtained from many SARS-CoV2 infected people, clinicians are trying to gather accurate evidence for effective treatment and also developing a suitable vaccine system for the prevention of spread of infection for many more people. With no proven therapies which can treat and prevent SARS-CoV-2 is developed until now, there is an opportunity for new researchers in virology to make such an attempt at this crucial time. In this regard, currently, two strategies are active. The first kind of strategy is on developing completely new molecules to prevent and treat this disease, or the second strategy is on testing the effectiveness of already available antivirals and antimalarials for possible potential recovery and prevention. This is done by testing several antivirals (Remdesivir, Favipiravir, etc) and antimalarials (Chloroquine, Hydroxychloroquine, etc) for their potential therapies. Studies show that the most promising therapy is the use of antiviral Remdesivir. Remdesivir has shown the potential ability to exhibit vitro activity to control COVID-19. The drug is currently being tested by ongoing randomized trials. Until a widely accepted drug reaches the global market, different antiviral treatment strategies are used under urgent investigation. In this article, we review the latest research developments related to the systematic treatments for COVID-19 reported from various research labs of different countries. The article also provides a summary of various clinical research experience, intermediate results, and treatment guidance to combat the novel coronavirus epidemic based on pharmacotherapeutic analysis, along with insights to the attempts on vaccine development across the world in order to curb the COVID pandemic.
Downloads
Download data is not yet available.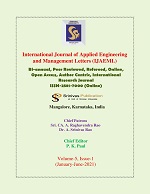 Downloads
How to Cite
Architha Aithal, & Edwin Dias. (2021). An Overview of Drugs Used in COVID-19: A Pharmacotherapeutic Approach. International Journal of Health Sciences and Pharmacy (IJHSP), 5(1), 34–54. https://doi.org/10.47992/IJHSP.2581.6411.0060