Judging Mental Health Disorders Using Decision Tree Models
Keywords:
Depression Relapse, Decision Tree, Heath Data Analytics, Judgement Analysis, Medical diagnosis
Abstract
This research presents a categorization replica to have the discernment of the result of distinct psychological health hazard which got improved with the implementation of the replica of decision tree. Among 3000 contestants approximately for different medical analysis, we get the instruction data regarding decision tree information from the answers of the queries. It is displayed by the exploratory outcomes that the suggested replica of the decision tree can find the significant framing of conclusion which influences Clinical discernment Precision. Such conclusions framing comprising in result such as recurrence or non-recurrence for clinical physical sickness, maturity, sex, duration of psychologically physical sickness, span for having drugs as well as suggested drugs that will be able to be applied as an instance of the assessment of the comprehensive precision of medical professionals.
Downloads
Download data is not yet available.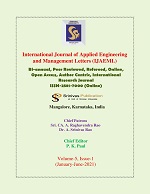 Downloads
How to Cite
Sandip Roy, Aithal P. S., & Rajesh Bose. (2021). Judging Mental Health Disorders Using Decision Tree Models . International Journal of Health Sciences and Pharmacy (IJHSP), 5(1), 11–22. https://doi.org/10.47992/IJHSP.2581.6411.0058