Normative Value of Patellar Tendon Thickness in Indian Young Adult Population - A Cross Sectional Study
Keywords:
Patellar tendinopathy, Tendon thickness, Ultrasonography, Normative values, Indian young adults
Abstract
Purpose: Patellar Tendinopathy (PT) is a highly prevalent condition in lower extremity. Ultrasonography is used as diagnostic tool and outcome measure in clinical trials on PT. As the thickness of the tendon increases in tendinopathy conditions, it is important to establish a normal value of the tendon thickness. Therefore, normal and pathological tendon can be differentiated from each other. Though normal tendon thickness was established for western country population, it is important to have a normal reference value for Indian population as Indians belong to different race and ethnic background. So, the purpose of the study was to establish a normative data of patellar tendon thickness in young Indian adult population.
Methodology: A total of 48 subjects, 28 males and 20 females were included based on inclusion and exclusion criteria. The inclusion criteria were subjects aged between 18 and 35 years of age, both male and female, currently not suffering from any of the musculoskeletal pain in the lower extremity.  Included subjects were positioned supine with mild knee flexion and undergone ultrasound measurement of patellar tendon thickness at both 0.5 centimetres proximal to the tibial tuberocity and 0.5 centimetres distal to the apex of the patellar tendon of both the extremities by an experienced radiologist. The measurements were recorded in centimetres.
Results: Patellar tendon thickness of the recruited subjects for right and left side with geometric mean and 95% confidence was calculated. The overall Proximal thickness geometrical mean and confidence interval were. 0.35 (CI0.34 to 0.37). Meanwhile, the mid and distal thickness were0.33 (CI 0.32 to 0.35) and 0.35 (CI 0.33 to 0.36) respectively.
Original value: This is a primary study established a normative value of patellar tendon thickness for young Indian adult population.
Paper type: A cross sectional study
Downloads
Download data is not yet available.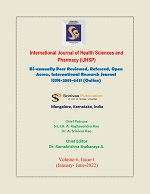 Downloads
How to Cite
Rajasekar S., Dinesh K. V. N., Mohak Girish Adav, & Kartikeya V. Uchila. (2022). Normative Value of Patellar Tendon Thickness in Indian Young Adult Population - A Cross Sectional Study. International Journal of Health Sciences and Pharmacy (IJHSP), 6(1), 43–49. https://doi.org/10.47992/IJHSP.2581.6411.0079
License
This work is licensed under a Creative Commons Attribution-NonCommercial 4.0 International License.