Linkage of Safety Site Conditions with Accidents
Keywords:
Safety Site Conditions, Safety Facilities, Inspection, Status, Theories, Commercial Project
Abstract
Purpose: In Construction many employments are there which draws attention to high standards of safety. the study was conducted To access the linkage between site condition of safety management in selected Five under construction commercial projects of Bharatpur Metropolitan city with accident cases for framing the empirical solution of productivity through safety seems highly significant.
Design/Methodology/Approach: Site visit of the Project; questionnaire survey and interview were done. Initially, the case study of the 5- project and questionnaire survey for the pilot survey was distributed. Cases of 11 Accidents were documented and analyzed for creating safe acts and safe conditions.
Findings/Result: It was concluded that the occupational hazards in the commercial projects construction process consist of the physical hazards primarily while hazards like mechanical, psychological, and chemical are the minor ones. Use of the safety signboards was limited in the sites. It is also observed that there is no proper optimal use of the personal safety procedure. It is recommended that employers and the contractor team should be responsible for the health and safety of the worker and follow the general guidelines for it. Productivity without safety cannot lead to profitability. Loss of some parts to loss of life is recorded due to a lack of construction safety practice-based theory of causation of accidents. Urgent needs of implementing proactive and reactive safety procedures at management, organization, and employee level should be focused on. There must be proper allocation of the safety items in the BOQ and the work done and personnel allocating doing the work should be aware of the hazards. The housekeeping and the preventive measures must be allocated and the proper use of the PPE too. The job satisfaction from the engineering team to the workforce must be provided by the organization.
Originality/Value: The study will be significant for policymakers and professionals to feel and experience the danger of the construction industry to avoid in their case as if we experience by doing the accident may we cannot be in a position to share the experience. The need for regulatory improvements will draw attention.
Paper Type: Empirical Research
Downloads
Download data is not yet available.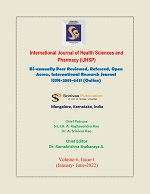 Downloads
How to Cite
A. K. Mishra, Rochak Adhikari, & P. S. Aithal. (2022). Linkage of Safety Site Conditions with Accidents . International Journal of Health Sciences and Pharmacy (IJHSP), 6(1), 17–34. https://doi.org/10.47992/IJHSP.2581.6411.0077
License
This work is licensed under a Creative Commons Attribution-NonCommercial 4.0 International License.