Measuring the Level of Preparedness to Face Challenges during Uncertain Times: A FirmLevel Scale for Brick-and-Mortar Retailers in India (FLSPU-b)
Keywords:
Indian Retail, Brick-and-Mortar Retail, Retail Performance Evaluation, Measuring Retail Performance, Firm-Level Retail Scale, Lockdown, Shutdown, Market Disruption, Immunity to Market Disruptions, COVID-19, Pandemic, Uncertain Times
Abstract
A majority of brick-and-mortar (B&M) retailers in India have adapted firm-level and outputdriven measures to evaluate their overall retailing performance. This output-driven measures approach is distracting them from focusing on input variables and efficiency that is inevitably imperative if sustainable retail profit and returns on investment (ROI) are expected. Even though the LSRS-b instrument developed by us earlier could measure the current performance of a B&M retailer using input-driven measures, it fails to provide the B&M retailer a comprehensive scale to measure their preparedness to face challenges during uncertain times. B&M retailers in India struggle to get consumers walk-ins into their stores owing to unexpected short-term disruptions in the market such as i) shutdown of specific locality forced by political parties or other organizations; ii) entry of new competitors in a catchment; iii) lucrative offers floated by others in the catchment; iv) heavy rainy days; v) heavy winter days; vi) peak summer days etc, and long-term market disruption such as i) lockdown of a locality due to public health safety measures (for instance, Covid-19 lockdown); ii) shutdown of a locality for civil and infrastructure developmental works; iii) entry of new retailing formats (for instance, Online stores), etc. We have observed that in India this struggle is not once in a while. In this study, we have studied a few select organized B&M retailers to identify 21 variables that directly or indirectly determine the level of preparedness of B&M retailers in India to face challenges during uncertain times. The FLSPU-b instrument has been designed considering the majority of variables that are inputs-driven and have significant determination with the ROI and indicating the level of preparedness to face challenges during uncertain times. We believe that the FLSPU-b scale would be instrumental in accurately measuring the level of preparedness as the same is consistent with the arguments, suggestions, and recommendations of the Theory of B&M Retailing in India (ToR-b) and the Concept of Margin of Safety (MoSR-b) for B&M retailers in India.
Downloads
Download data is not yet available.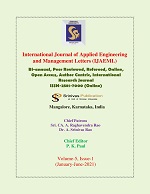 Downloads
How to Cite
Ganesha H. R., & Aithal P. S. (2021). Measuring the Level of Preparedness to Face Challenges during Uncertain Times: A FirmLevel Scale for Brick-and-Mortar Retailers in India (FLSPU-b). International Journal of Applied Engineering and Management Letters (IJAEML), 5(1), 1–18. Retrieved from https://srinivaspublication.com/journal/index.php/ijaeml/article/view/366