Online Language Teaching: Methods and Strategies, Possibilities and Opportunities
Keywords:
Online Teaching, Language Teaching, Learning, Education, Virtual Classroom
Abstract
Online Teaching has been an effective method to meet a great number of learners at the global level. Learning this way leads the eager learners to find different ways to discover new horizons of knowledge. The online content of language learning has led many information seekers to concentrate on the acquisition of exuberant language skills. This paper study various methods and techniques that could be used to connect diverse information aspirants. Challenges are also being discussed in the existing eligible system for online language teaching. The virtual classroom here is designed with cyberspace to create a language learning atmosphere. The paper outlines the reasoning, design, including the use of these lesson plans that facilitate action and reflection across the learning cycle. The techniques and approaches set out in this paper will provide insight into the outcome of the initiative. This research also provides a look at the shots of online teaching. This study examines potential approaches and techniques and explores the wider possibilities and varied prospects for achieving the objective of helping the target group of students to achieve their goals. Possibilities have brought more benefits not only to the pupils, but also to the aspirants, irrespective of their age group. It also suggests some potential online training methodologies for teachers to take classes online.
Downloads
Download data is not yet available.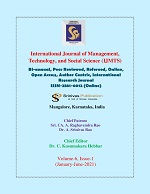 Downloads
How to Cite
Bharathi S. Rai, & Rajeshwari M. (2021). Online Language Teaching: Methods and Strategies, Possibilities and Opportunities. International Journal of Management, Technology and Social Sciences (IJMTS), 6(1), 128–141. https://doi.org/10.47992/IJMTS.2581.6012.0134