Survey of Twitter Viewpoint on Application of Drugs by VADER Sentiment Analysis among Distinct Countries
Keywords:
Dictionary based approach, Opinion Mining, Natural Language Toolkit, Sentiment Analysis, Social Media, Twitter, Valence Aware Dictionary and Sentiment Reason (VADER)
Abstract
Who does not know that Twitter is an august social networking podium now? Here the folks around the globe are able to establish their viewpoints. Every day, almost 500 million tweets are established in twitter, and this volume contains 8TB data. The data that we derive from twitter is very much significant if we illustrate it, because we are able to derive significant news in the mode of sentiment analysis. From Twitter data, we get to know about the information and remarks of the augmentation of various product, novel fashion etc. Exploration of emotions, viewpoints, subjectivity and motive from a normal message or tweet for the application of drugs for the therapy of COVID-19, is the prime objective of this sentiment analysis. Now, comes clustering. It's a method by which one can detect homogeneous substances, combine together and create a class or cluster. There was an initiative from of going on with a research from our end and the result of it showed that the implementation of clustering is able to get infirm and solid positive or negative tweets while getting clustered with outcomes of distinct dictionaries and present robust scaffolding on our prediction. The research analyzes the polarity calculation, applying VADER sentiment analysis for the application of drug for the therapy of COVID-19.
Downloads
Download data is not yet available.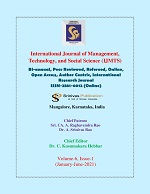 Downloads
How to Cite
Rajesh Bose, Aithal P.S., & Sandip Roy. (2021). Survey of Twitter Viewpoint on Application of Drugs by VADER Sentiment Analysis among Distinct Countries. International Journal of Management, Technology and Social Sciences (IJMTS), 6(1), 110–127. https://doi.org/10.47992/IJMTS.2581.6012.0132