A Systematic Literature Review on Training Higher Education Students for Soft Skills
Keywords:
Soft skills, Higher education, Training, Employees' perspective, University Graduates, Human resource management, Competencies, Systematic review, Literature Review, ABCD Analysis, SLOC Analysis
Abstract
Purpose: The research entails drawing up new ideas and laying down them into action while availing former work as a foundation. The impetus of the literature review in this paper is to acquaint and learn about the review topic to amalgamate existing ideas with the new ones.
Methodology: Multiple secondary sources, such as journals, conference proceedings, book chapters, and other web resources, were utilised to compile the literature for this study. All of the literature has been reviewed in-depth and is encapsulated. It's also utilised to come up with research agendas and research gaps.
Findings/Result: The current study's contribution can be observed in the classification of numerous students' soft skills. It has the potential to convey useful information to higher education stakeholders. Higher education institutions must rethink their coaching and study methods to invigorate the soft skills that employers demand to generate job-ready graduates. The research also revealed that students who are graduated lack soft skills, which is highly valued from employer's perspective to be job-ready. Universities and the government both have been instrumental in creating as well as expanding the country's human capital to address this issue.
Originality: This literature survey is based on secondary data that was gathered from a variety of online sources. The data gathered will be utilized to improve existing theories and frameworks or to create new methodologies in the future. Any final judgment or decision is also viewed to be non-biased or unidirectional. An earnest attempt is driven to identify a study topic and to carry out the research.
Paper Type: Literature Review.
Downloads
Download data is not yet available.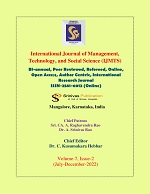 Downloads
How to Cite
Shwetha Pai, & Sureshramana Mayya. (2022). A Systematic Literature Review on Training Higher Education Students for Soft Skills . International Journal of Management, Technology and Social Sciences (IJMTS), 7(2), 97–142. https://doi.org/10.47992/IJMTS.2581.6012.0213
License
This work is licensed under a Creative Commons Attribution-NonCommercial-NoDerivatives 4.0 International License.