Psychological Capital and Self-Perceived Success among Senior Citizens in Community Based Geriatric Settings
Keywords:
Community based geriatric care, Geriatric care in India, Psychological capital, Flourishing, Institutionalized care for older persons, ABCD analysis framework
Abstract
Purpose: India is witnessing a phenomenon called population aging that is not only altering the shape of the population pyramid but also bringing regarding new needs, demands for new and increased resources and new opportunities as well. In India, family is still the major caregiver for the elderly. The conventional joint family arrangement is giving way to the nuclear family systems as people become more mobile. The social life of the elderly is undergoing changes. The changing and demanding requirements of the elderly are not taken care properly in the traditional old age care centres and homes. While the Western World is advanced with institutionalized support systems for the elderly population, India lacks adequate institutionalized support system and policy support mechanism. In this context traditional system of geriatric care and upcoming Community based geriatric care is reviewed systematically in this paper. The basis of secondary data the concept of community-based geriatric care in India and psychological capital, flourishing and hope among older persons in the community-based geriatric care is analysed.
Design: The codes are taken from the literature and used in the review of literature. This paper analyses the notion of community-based geriatric care in India, as well as psychological capital, flourishing, and hope among older people in community-based geriatric care, using secondary data. Desktop research was conducted using the internet platform. A total of 80 research articles were examined in depth and methodically to identify the research gap.
Findings: The factors, for instance, Community based geriatric care, psychological capital, flouring among old age people, and the geriatric care system in India are reviewed and analysed. The various theories are examined to comprehend psychological capital and flourishing. The hedonic and eudemonic theories were collected by the literature and studied to develop the concepts in this study. It also highlights the importance of community-based geriatric care for healthy aging.
Originality: A new conceptual geriatric care system is introduced called community - based geriatric care.
Paper Type: Review type paper.
Downloads
Download data is not yet available.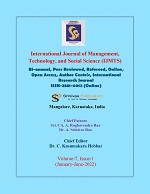 Downloads
How to Cite
Lijo K Joseph, & Vidya N. (2022). Psychological Capital and Self-Perceived Success among Senior Citizens in Community Based Geriatric Settings. International Journal of Management, Technology and Social Sciences (IJMTS), 7(1), 425–443. https://doi.org/10.47992/IJMTS.2581.6012.0200
License
This work is licensed under a Creative Commons Attribution-NonCommercial-NoDerivatives 4.0 International License.