Re -Negotiating the Trauma Theory in Select Partition Novels
Keywords:
Partition novels, Trauma theory, Psychology, Post Traumatic Stress Disorder
Abstract
Purpose: This paper analyses the traumatic aspects prevalent in select Partition novels in Indian English literature. An inquisition of how these writers delineate the traumatic condition of the women characters in their partition narratives and the manner in which they interweave memories, pangs, sufferings, thoughts, riots and experiences with their past and the sense of trauma experienced by them. This study will be examined in detail on the effects of disaster or catastrophe on the inner psyche of characters and consciousness that dismantles the identity of an individual.
Design/Methodology/Approach: It will be a qualitative analysis including close reading, interpreting, comparing, and contrasting the primary sources chosen for the study. Critical essays on trauma theory and partition novels and books on partition narratives and trauma theory will also be incorporated to conduct the research.
Findings/Results: The outcome of the partition of the Indian subcontinent will ever be an issue of national prominence. The Partition event has enhanced many problems and inquiries about citizenship, national identity and traumatic experiences of the people. However, it is often examined, it still postulates from us an upholding pursuit for many essential answers.
Originality/Value: The literature of partition sheds light on the then subsisting doctrines and its shift due to partition, which renders in new discernment about the social, historical and psychological experiences during that time. Partition induced a great agitation in history that interwoven with the miseries and trauma. These novels investigate how people outlived the holocaust, how they survived grappled with the trauma and renew their lives. These writers have perceived the pathos of people and the human agonies that preceded and accompanied partition. These novels demonstrate the impressions of abstruse nostalgia of the survived and deposed and intense pain of missing their motherland forever.
Paper Type: Analytical research study.
Crossref DOI: https://doi.org/10.47992/ijmts.2581.6012.0181
Downloads
Download data is not yet available.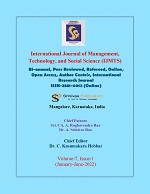 Downloads
How to Cite
B. G. Uma Maheswary, & A. Lourdusamy. (2022). Re -Negotiating the Trauma Theory in Select Partition Novels. International Journal of Management, Technology and Social Sciences (IJMTS), 7(1), 112–126. Retrieved from https://srinivaspublication.com/journal/index.php/ijmts/article/view/1228
License
This work is licensed under a Creative Commons Attribution-NonCommercial-NoDerivatives 4.0 International License.