Redefining Nationhood and Nationality through Historiographic Metafiction in the Shadow Lines
Keywords:
Postmodernism, Historiographic Metafiction, Redefining nationhood, Nationality
Abstract
Purpose: Postmodernism is a general movement that developed in the late 20th century across the arts, philosophy, art, architecture, and criticism, marking a disappearance from modernism. The term has been more often used to describe a historical age which followed after modernity. Postmodernism is a period of uprising which refers to ups and downs in each walk of life and the different disciplines of knowledge be it literary work, philosophy, or science. Postmodern literature revokes some modern literary methods by transforming them. Historiographic Metafiction is a contradictory term that consists of two opposite categories such as history and metafiction. It is having dual representations because such writings reflect the reality as well as fictional position. An attempt is made by the Post-colonial Indian English writers to liberate Indian English literature from the foreign bondage. Historical events such as agitations, migration, movements, refugees, colonial hegemony; social-economic and cultural problems like encounter of the east-west, caste, and class became the concerns of the writers.
Design/Methodology/Approach: This paper is prepared by making a study of Primary source and accumulating secondary data from educational websites and written publications. This qualitative research is carried out by studying and interpreting the existing knowledge on the subject. The paper tries to analyze the historiographic metafictional features as depicted in The Shadow Lines by Amitav Ghosh.
Findings/Result: After reviewing many articles, books and thesis it has been found that the paper aims to study Amitav Ghosh's notions like " Nationhood and National distinctiveness in "The Shadow Lines" as a reminiscence novel, highlights a few historical happenings like the Second World War, the Swadeshi movement, and the Partition of India in 1947 and communal uprisings in Bangladesh and India. The ardent nationalism upheld by the protagonist that is the narrator's grandmother is questioned and re-analysed. Ghosh searches for appropriateness of traditional identity such as nation and nationalism.
Originality/Value: This paper makes a study of the major character Thamma with special reference to her concerns of Nationhood and Nationality.  The identity of Thamma in the novel is given prominence being a woman she stands for her thoughts and identifies her as an individual who faced tragedy but still who had the courage to raise her voice till the end.
Paper Type: Analytical Research paper.
Downloads
Download data is not yet available.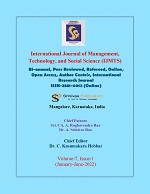 Downloads
How to Cite
Nayana K, & Manjula K. T. (2022). Redefining Nationhood and Nationality through Historiographic Metafiction in the Shadow Lines. International Journal of Management, Technology and Social Sciences (IJMTS), 7(1), 11–20. https://doi.org/10.47992/IJMTS.2581.6012.0174
License
This work is licensed under a Creative Commons Attribution-NonCommercial-NoDerivatives 4.0 International License.