A Descriptive Analysis on Effect of Corporate Governance on Investor's Decision
Keywords:
Behavioural Finance, Corporate Governance, Psychology of an investor, Investment Decision
Abstract
Purpose: The article studies the impact of internal factors and external factors influencing an investor's investment decision.
Design/Methodology: The information for the study was obtained from secondary sources like journal papers, magazines and books.
Findings: Human psychology has an internal role in investing choice, whereas corporate governance is an external influence. Corporate governance plays a major role in the investment decision-making process by revealing all elements of business information, but investors understand the information according to their own assessments and assumptions based on their psychology. As a result, a firm's transparency hardly impacts in investment decisions, and it only works to a limited extent; the rest of the investment selection process is dominated by human behaviour. However, the firm is transparent, there is no guarantee that the investor will always act rationally when making a choice for investment.
Originality/Value: Every investor should make rational decisions about their investments. Therefore, it is an investor's responsibility to follow the information provided by the firm, although some investors fail to do so.  As a result of investor psychology, investors' investment decisions are beyond the reach of business transparency. The study implies that a behavioural survey will be useful in determining the factor influencing investors' investing decisions.
Type of Paper: Conceptual Paper
PDF Link: https://srinivaspublication.com/journal/index.php/ijmts/article/download/1109/567
Downloads
Download data is not yet available.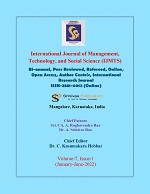 Downloads
How to Cite
Dsouza Prima Frederick. (2022). A Descriptive Analysis on Effect of Corporate Governance on Investor's Decision. International Journal of Management, Technology and Social Sciences (IJMTS), 7(1), 1–10. https://doi.org/10.47992/IJMTS.2581.6012.0173
License
This work is licensed under a Creative Commons Attribution-NonCommercial-NoDerivatives 4.0 International License.