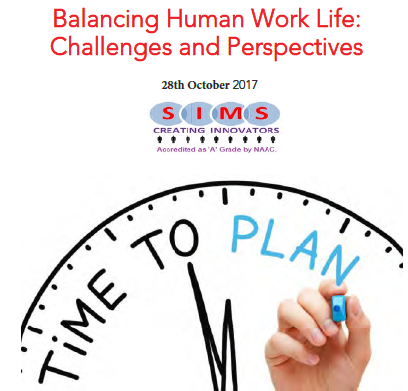 Srinivas Institute of Management Studies, established in 1999 under the aegis of A. Shama Rao Foundation, is a premier education institution imparting innovative and quality education to youth in areas of Business Management, Commerce, Social work and Computer Applications, affiliated to Mangalore University and approved by AICTE, New Delhi. The Institute is accredited with 'A Grade' by National Assessment and Accreditation Council (NAAC). Keeping pace with the emerging challenges. the College is imparting students and faculty with skills knowledge and necessary for success in a dynamic educational scenario and employment market. The campus is located at Pandeshwar, the heart and employment market. The campus is located at Pandeshwar, the heart of downtown of Mangaluru, the business and financial centre of Western Karnataka.
The conference provides an intellectual platform for the academia, practitioners, corporate and research scholars to present their original work and exchange ideas and develop a new vision for the Human work life management to the present context. The intellectual have taken precedence over the physical efforts. As a result the personal hobbies and interests clash with the work. There is a need to balance work life with other related issues. The Quality of work life (QWL) focused solely on specialization and efficiency, has undergone a revolutionary change. Changing human life to the present competitive world to enjoy life and the challenges to secure satisfied life will help to answer many unanswered questions which are a great concern of human development.
Human Resource Management

Information Technology

Entrepreneurship Development

Inclusive Growth

Economic Reforms

Ethics and Value System

Social conflicts

Culture and its impact

Social Transition

Quality of Work Life

Education Management

Corporate Social Responsibility

Contemporary Financial Scenario

Legal Issues in Management

Financial services and Institutions

Coping Mechanisms

Historical and Contemporary Perspective of Human life management
Guidelines for Paper Submission
Original unpublished manuscripts, relevant to the conference theme, are invited on the theme of the conference from academicians, researchers, students and practitioners. Abstract should be in about 300 words including 5-6 keywords. Full paper should be in MS Word, Times New Roman 12 point, with 1.5 line spacing fully justified and should not exceed 4500 words. The front page of the paper should provide details of author's name, affiliation, organisation, email address and telephone number. All tables and figures should be numbered and should appear in the corresponding text with captions. Source should be explicitly mentioned at the bottom of the table/figure. Kindly avoid using footnotes. APA Citation style must be followed for references. All correspondence will be addressed to the first author only.
Full paper should be submitted electronically to- conferencemswsu@gmail.com
Last Date for submission of Abstract and full paper ; 30th September, 2017
Intimation of Paper Acceptance                                     : 10th October 2017
Conference Date                                                                : 28th October, 2017
We encourage the researchers to submit the papers early to facilitate the review process and publication.
Authors are kindly requested to specify clearly the track under which their peer should be listed.